Is Your Facility Design Part of Your Brand?

For many healthcare organizations, the interior design of their facility is not thought of as a representation and reflection of their brand. But that isn't the case for organizations that are truly brand-focused. Those organizations understand that many different issues affect brand and reputation, very much including the look and feel of the facility and its impact on patient experience and perceptions.
Savvy marketing organizations have a brand standard and style that they apply consistently to everything. Effective branding is based on the consistency of the brand image and the brand experience. This is particularly true for businesses with multiple locations.
Starbucks is a classic example of consistent branding. Whether you visit a Starbucks in New York, Dallas, Los Angeles, Wichita or anywhere else, you already know what to expect. The locations look the same. The baristas wear the same uniforms, the food displays are similar from one location to another, the signage is consistent, the display menus and prices are the same.
For healthcare facilities, no less of a brand standard should be applied, whether you have a single location or many locations. In fact, the more brand-oriented healthcare businesses make their decisions about where to locate new facilities based in large part on the potential to create or design a physical space that is consistent with the brand look and feel of the organization and any other locations that may already exist.
Dan Greenfield, Principal and Co-Founder of Health Space Design, a medical interior design firm in Austin, Texas, sees facility design as an integral component of a strong branding strategy.
"Just as a website needs to be appealing, current and easy to navigate, so must your physical office space be comfortable, well maintained and conveniently located," Greenfield commented. "In fact, the design of your medical office or clinic space is a real opportunity to extend your marketing strategy and enhance your patient experience."
"The design of an office or clinic space can reinforce the image you have worked hard to project," added Greenfield. "A bland or poor design is a lost opportunity to extend your brand, also contributing to a lack of consistency with your other marketing and branding efforts."
There are increasingly more examples of facility design being strategically conceived to enhance branding and patient experience.
For example, The Vancouver Clinic (TVC) is a leading healthcare institution in Vancouver, Washington, serving all of Clark County. The company is celebrating its 80th Anniversary this year. They have four major clinic locations in the Vancouver area and the facilities are designed almost identically to one another. Most of their clinic locations have two floors and one has three floors but each facility looks and feels very much the same.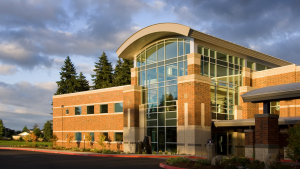 Dr. Marcia Sparling is the Medical Director of Operations & Information Technology (IT), and oversees the Specialty Departments at The Vancouver Clinic. She has been with The Vancouver Clinic  for more than twenty-five years and has been a physician leader in the group for more than a decade. Dr. Sparling participated in the strategy to have consistently designed and branded facilities.
"The intent of the design of the central galleria space in our building interiors was to use natural light to take advantage of the beauty of the Pacific Northwest and to highlight the natural colors of the region," noted Sparling. "We wanted to create an environment that feels to patients like a positive wellness experience – not a place of illness."
Sparling added, "By designing almost identical modules for the sub-waiting rooms of each department, we have the flexibility to relocate departments as needed with minimal disruption. The sub-waiting rooms surrounding the central galleria space also allows patients to experience a peaceful, serene and quiet environment despite the thousands of patients we see every month in our facilities."
A well-designed facility not only enhances the patient experience. It also affects the morale of providers and staff who work in the facility.  Dr. Sparling reports "Our doctors and staff enjoy working in our facilities because they were designed to be comfortable, efficient and serene, with lots of windows to look out and enjoy the natural beauty around us."