Marketing to Your Patients Through In-Office Video Networks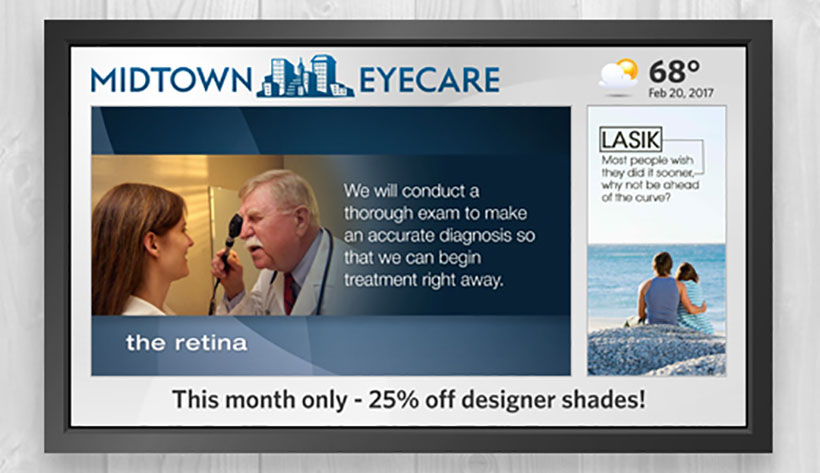 Marketing to Your Patients Through In-Office Video Networks features my latest audio podcast interview.  Listen to the podcast or read the transcript below.
Hello. I'm Lonnie Hirsch, President, and CEO of Hirsch Healthcare Consulting. Welcome to another in my podcast interview series about healthcare business topics important to healthcare practices and hospitals.
Our topic today is in-office video networks. My guest today is Jon Barnes, Chief Operating Officer of Mediplay. Mediplay provides medical facilities with a personalized, ad-free in-office patient education video network. Welcome, Jon. Thanks for being with us today.
How are healthcare practices using in-office video networks (sometimes referred to as digital signage systems) to grow their patient utilization and patient referrals?
It's very interesting and exciting to see how the use of video programming in the practice has evolved over the past 10 years.  It wasn't very long ago when DVD's would play on an endless loop, repeating outdated information to uninspired patients.  This was an expensive and time-consuming approach, as the struggle to create new content was a never-ending battle.
The more a patient knows about a practice and the menu of services they offer, the more likely they are to consider that practice for other healthcare needs. Also, even if they may not be in need of a certain service, they may have a friend or a family member that can benefit from it. Since they are already a happy patient, they can recommend their doctor, knowing that this doctor offers the service that their friend needs.
As our founder, an ENT doctor says, "Just about every patient that comes to me with a sinus infection or some other ailment, lives with someone, or knows someone that snores. But if they don't know I treat snoring, they will never refer that person to me. I want all my patients to be aware of all the different ways I can provide them with the care they need.
Furthermore, as we continue to see more practice consolidation and clinical affiliations, Mediplay provides an easy way for these networks to deploy branded content, which helps inform patients that they are part of a larger medical network, with more access to quality care.
What are a few examples of video and/or static image content topics that healthcare practices feature on an in-house video network?
Great question.  This will most certainly depend on the type of practice.  As you can imagine, the needs of a plastic surgery practice differs from that of an orthopaedic practice.  Mediplay's patient education video library contains over 600 videos, covering 23 different specialties, as well as a collection of pre-designed templates that allow for custom content to be easily created and distributed across the network.
With these tools, the practice is able to quickly put together a program that is tailored to them, without any outside advertisements.  As an example, an ENT practice may decide to insert a video that explains allergy testing and treatment options, in preparation for allergy season.  They may also include specific information about how their testing process works and/or how to sign up. This practice specific information is easily put together using one of our many customizable templates and plays along with the scheduled video content.
Mediplay subscribers are also able to display provider information, before and after images, testimonials, Facebook content, calendar events, live local weather and current events.
The possibilities are endless and as unique as each practice. Mediplay is your bulletin board, your event calendar, your trophy case, your brag book, your PR outlet, your monthly specials newsletter, your Facebook page, your YouTube channel… Anything that you want your patients to know about your practice and all the services you offer can be displayed in High Definition.
Some practices that don't use this internal tool are concerned that they will get negative feedback from patients because they are self-promoting intrusively when the patient would rather be reading a magazine, using their smart phone or watching "real TV" while they wait for their appointment. What has your experience shown in terms of patient acceptance or resistance to this method of marketing?
We tell the practice to tell their story.  Don't underestimate the patient's interest in learning more about what you do.   You've won their trust, now reinforce why they made that decision.
The truth is, "Real TV" does nothing to differentiate your practice from any other clinic in town. And since you have no control over what is being broadcast, you may subject your patients to questionable content and possibly competitor's advertisements.
It's well known that people like "content marketing"; that means you provide them with information that is relevant and helpful to them. They then see you as a resource of valuable information and in turn don't feel like you're simply trying to sell them something.
How do you measure patient engagement with messages in a video network?
We are aware of networks that use cameras mounted above the screen to track viewership, but this is not a tactic that we have an interest in, as it has received negative feedback when we have discussed this with physicians.  In the past, comment cards have been deployed at the practice level.  Feedback from our clients shows that there is an increased number of inquiries and an improved conversion rate for services that are featured on their Mediplay program.
When and why did Mediplay enter the in-office video network category?
Mediplay was founded in 2004 by an ENT physician who found it very difficult to keep patients informed on the different aspects of his practice.  In addition to general ENT services, the practice was conducting sleep studies, snoring procedures, as well as offering many different hearing aid options.  Rather than displaying cable tv, which did nothing to promote the practice and certainly came with its own cost, he wanted to use that time to provide valuable and timely information to his waiting patients.  Mediplay was created to provide an extra voice for the practice.  With so much information to cover and so little time with each patient, it's necessary to make every opportunity count.  As you can understand, that waiting room provides a great opportunity to start the conversation.
What differentiates Mediplay from other companies that provide in-office video networks?
There are a few main factors that differentiate Mediplay from other players in the space.  Mediplay is easy to deploy, includes a large variety of content and is 100% ad-free.
Most in-office video networks have a program that is basically generic, one-size-fits-all, general health information. These have very little if any customization ability. With Mediplay, the practice can tailor their program, so it is a personalized message about their unique practice.
The idea of setting up a multi-site network of screens can certainly seem daunting.  Luckily, Mediplay has simplified the process, making it possible for any size practice to deploy and manage their own in-office waiting room network.
It all starts with a 10-minute install.  Our small media player works with any HDTV and can be connected to the practice WiFI.  This means no heavy lifting, no cables to run or servers to install and no need for outside help.  Mediplay is designed to be self-installed.
From this point, management is performed through our client portal, Mediplay Connect, which can be accessed from any computer or tablet.  In addition to the hundreds of videos available, users have access to a set of tools that makes it easy to create practice specific content, without requiring any real design time or skill.
This last point is not to be understated.  Mediplay is practice-focused.  While many waiting room networks benefit the advertiser more than the practice, Mediplay says NO to any outside advertisements.  We do not feel that advertisers have a place in the waiting room, and the American Medical Association agrees with us (reference).  With Mediplay, all content is user selected.
How are video messages created for your network and how much responsibility is on the client to provide video content versus what Mediplay can provide for the client?
Great question.  The majority of Mediplays patient education content is developed in-house, researched and written by our team of medical writers.
As I mentioned, Mediplay users have access to a wide range of video content.  For those that have implemented networks that did not include content, I feel for you.  It's not an easy task to start from scratch.  We've heard the stories.  So, while it is possible to upload your own videos, it is by no means necessary.  Within the Mediplay library, we have over 600 patient education videos, covering 23 different medical specialties, as well as videos submitted by vendors (i.e.,. hearing aid, laser, injectable, etc.) and a collection of entertainment content.
Which healthcare specialties can benefit most from Mediplay?
Any specialty that would like their patients to know the breadth of their service offerings. Any specialty that has any high-margin procedures that they would like to book more of. Any specialty that has information that their patients need to know.
While we started with ENT, we quickly understood the need for this solution was not specialty specific.  As we began to move into other specialties we found that it is not necessarily that Mediplay provides a bigger benefit to any one specialty, but it was clear that different aspects of the network benefited each specialty differently.  Imagine a blank canvas and a set of different colored paints.  It's not that a particular color works better for the canvas, it's more important how each color is used. For example, a plastic surgeon will most certainly find our Before and After templates more useful than an orthopedic surgeon, but does this really affect his overall message?  I do not believe so.
The needs of a plastic surgery center do differ from that of an orthopaedic clinic, but the driving force behind the message is the same.   Whether you are looking to book an additional appointment, or ease a patient's anxiety so they can make better informed decisions, it's comes down to telling your story.
How is pricing structured for Mediplay clients?
Mediplay is subscription based.  In the example of a practice with a single screen, the practice would pay an initial one-time setup fee for the media player, and then a monthly subscription fee for access to the client portal and all included content.  The subscription rate would be determined by the contract length, which is available in 1, 2 and 3 year terms..  Volume pricing is also available.
How should healthcare practices interested in your service contact you to get more information?
Information can be found on our website (https://mediplay.com) or by emailing info@mediplay.com.
Thanks, Jon. Our guest today has been Jon Barnes, Chief Operating Officer at Mediplay. This is Lonnie Hirsch inviting you to tune in again for my next podcast, coming soon.